If you've grown tired of traditional adult cam sites, where you do nothing but watch pretty girls get naked on screen (not a bad thing, by any means), then Slutroulette may will like a breath of fresh air. While interacting with sexy cam models is always lots of fun, it's nice to know there are other options available.
Today we will be reviewing an adult cam site where you can chat to thousands of amateur members who, just like you, are simply looking for a good time. Mind you, there are also many professional camgirls on hand, willing and able to provide you with the most mouth-watering live private shows. There's a little bit of something for everyone here. Overall, it's quite a unique concept, and one that is catching on rather quickly.
Slutroulette offers a cam porn experience unlike any other found on the internet. While there are many categories to choose from (teens, ebony, bdsm, ebony, latina, etc.), members are matched together randomly, which gives way to unforgettable moments of thrilling excitement and pure adrenaline, since one can never know who will be the next performer to show pop up on their screen.
It's an exceptional idea, one we've never encountered before on adult cams, until now. What can we expect to find? We don't know, but one thing is for sure – this going to be one bumpy ride! Are you ready to spin the Slutroulette? Then let's go!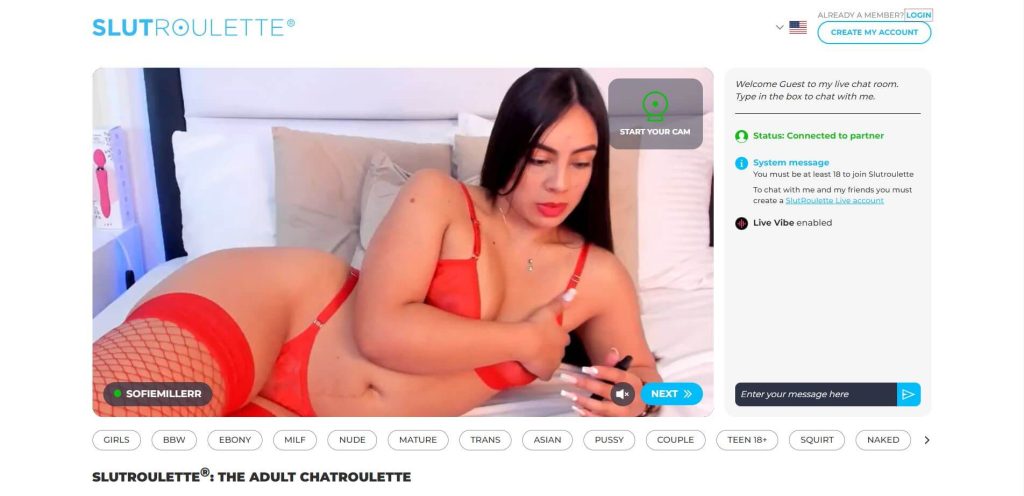 If I were to describe the Slutroulette experience, I'd start by saying it's somewhat like a social media network but for webcam porn. Honestly, I don't believe I've ever seen anything quite like it before. People sign up to Slutroulette for many reasons, not only to watch cam models get naked. There are thousands of active members seeking to fulfil their own private sexual fantasies, but also just to chat and meet new people. You can really let your imagination run wild. It's a free for all where anything goes! This is definitely not your typical adult webcam site.
Obviously, one cannot review Slutroulette without talking about its nifty and incredibly useful NEXT button. This groundbreaking feature serves the purpose of allowing members on either side of a live chat to instantly terminate the session whenever one user feels the show has become boring, tedious, creepy, stupid or if they simply want to move on to the next performer. The NEXT button works as a great incentive for both parties to be as entertaining and engaging as possible. When you get NEXTED for the first time, you may feel shocked, even offended, but don't worry – it happens to everyone at some point!
Without a doubt, the best thing about the NEXT button is the rush of adrenaline you feel by not knowing who will be the next chat member to show up on your screen. It can be someone from a far away country, maybe that cute girl who lives a few houses down. The possibilities are endless! It's what makes Slutroulette one of the most popular and addictive adult cam sites on the web.
Finally, I got the chance to try out Slutroulette myself. In a matter of minutes, I had my account set up and was ready for action! Honestly, I had no idea what to expect. Searching inside the "teens" category, there seemed to be an endless stream of available chat partners, many of them cute and interesting, but I couldn't stop clicking NEXT! At last, I settled for a gorgeous teen babe from Germany. She was blonde and pretty and had a delicious pair of big natural boobs, which she didn't hesitate to flash for the camera the moment I asked. It turned out to be a highly erotic experience, and one I can recommend to all true fans of webcam porn!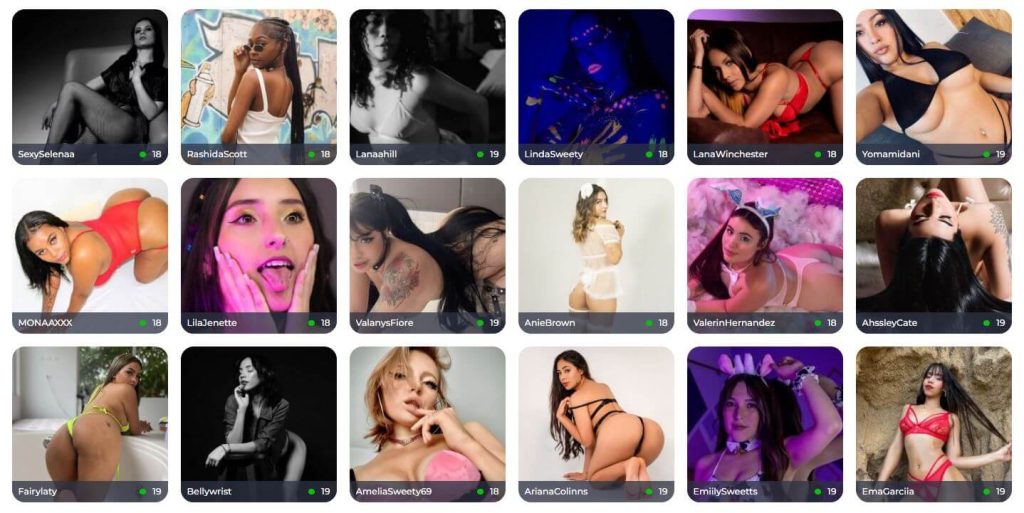 Are you looking for something to break the monotony of the same old webcam experience? Slutroulette might be just what you're looking for. As a member, you're guaranteed to meet hot men and women from all over the world. This an adult webcam site that has been rapidly growing in popularity over the last few months, so this might be the perfect time to join and explore a wide range of different online encounters. No matter what you're looking for, Slutroulette is sure to leave you pleasantly surprised.