Royal Cams Live Sex Shows Review
The Offer


At some point, we all grow tired of the same old cam sites. We look for something new to catch our attention. New models, new site, new design, new features – new everything! Trans cam porn lovers especially have a difficult time trying to find quality cams and hot models. Thankfully, we came across Royal Cams and we liked what we saw. Though at first sight it looks like your typical cam porn offer (sexy performers willing to get naked and masturbate love in front of the webcam), you'll find that it's really a lot more than that. At least when it comes to finding hot new trans models.
If you want to learn more about Royal Cams, its models and everything the site has to offer its members, continue reading and follow us through our in-depth review of this hot-looking new site. We answer all your questions and then give you a definitive conclusion. TopSiteCam.com tells you what's hot and what's not in the cam porn industry. To learn if Royal Cams is worth your hard-earned money and precious time, read the full review below. We hold absolutely nothing back and give it to you straight!
The Experience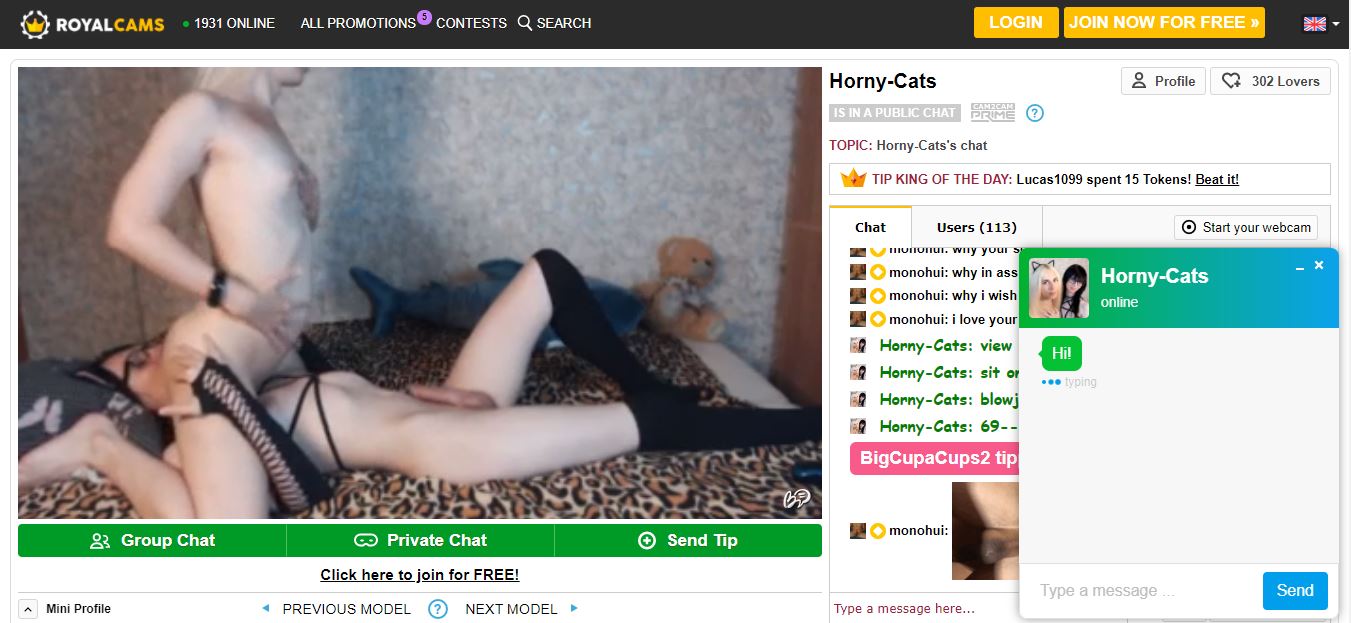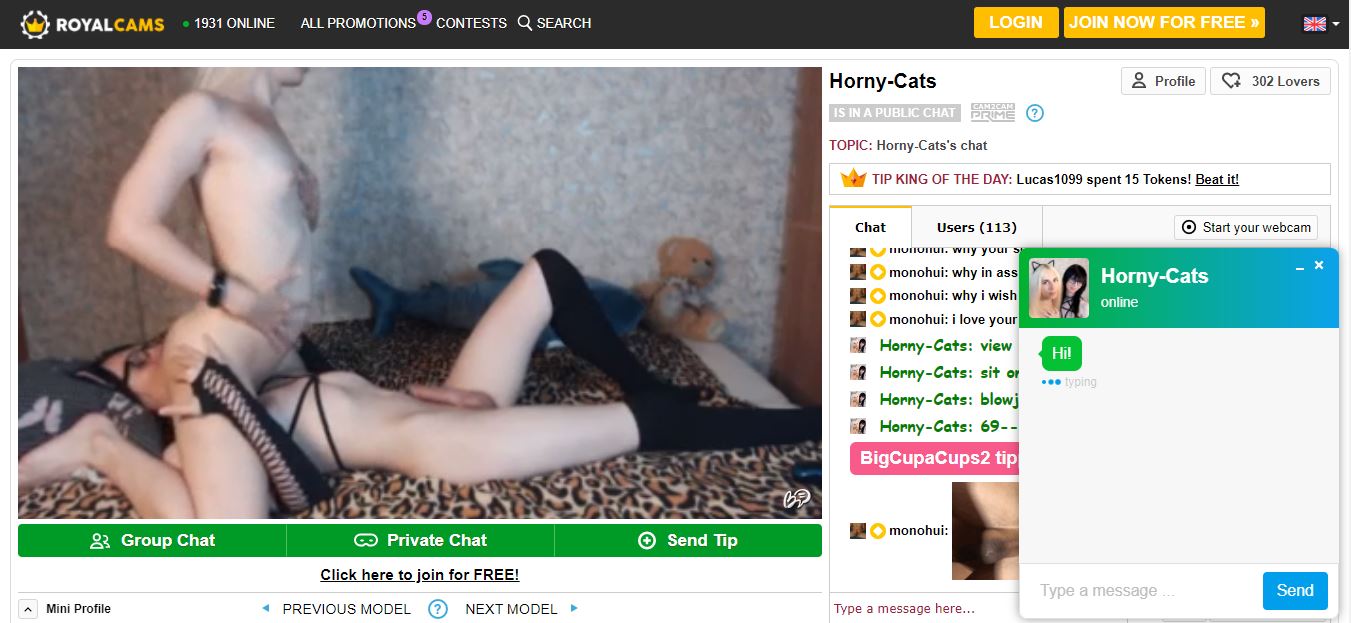 So we joined RoyalCams.com and it turned out to be quite a treat. In just a few minutes we had created an account and were in the member's area browsing through dozens of irresistible transsexual cam models from all over the world. Wow, some of the trannys on Royal Cams will really leave your mouth watering. The site has a simplistic yet beautiful design that is easy to navigate and find models. Speaking of which, the search options are amazing, allowing you to narrow down searches depending on various tags. Pull out your cock and get ready for some hardcore masturbation!
As you can imagine, the first thing we did was check out some of the cutest trans models at Royal Cams. Thankfully, there was no shortage of hot chicks with dicks waiting for us to pop into their free chat rooms. Some of these tranny babes were ridiculously hot – almost like real professional models – while others were just average-looking at best. No biggie, the same thing happens on practically all cam sites. Also, you'll notice that not all of the cams are HD quality, which is a bit of a bummer, but not a deal-breaker. At least not for us. We wanted to see more!
One of the best things that Royal Cams has going are its competitively lower rates. Here you'll pay about half (or less) of what you might be spending on the more popular, mainstream adult cam sites. But at the same time, sometimes you won't get HD cams, and most of the models are amateurs. You'll find that most tranny shemales on Royal Cams comes Europe and Eastern Europe. Prices and schedules vary depending on the performer, but you can always opt to view their full profile for more personal details.
The Conclusion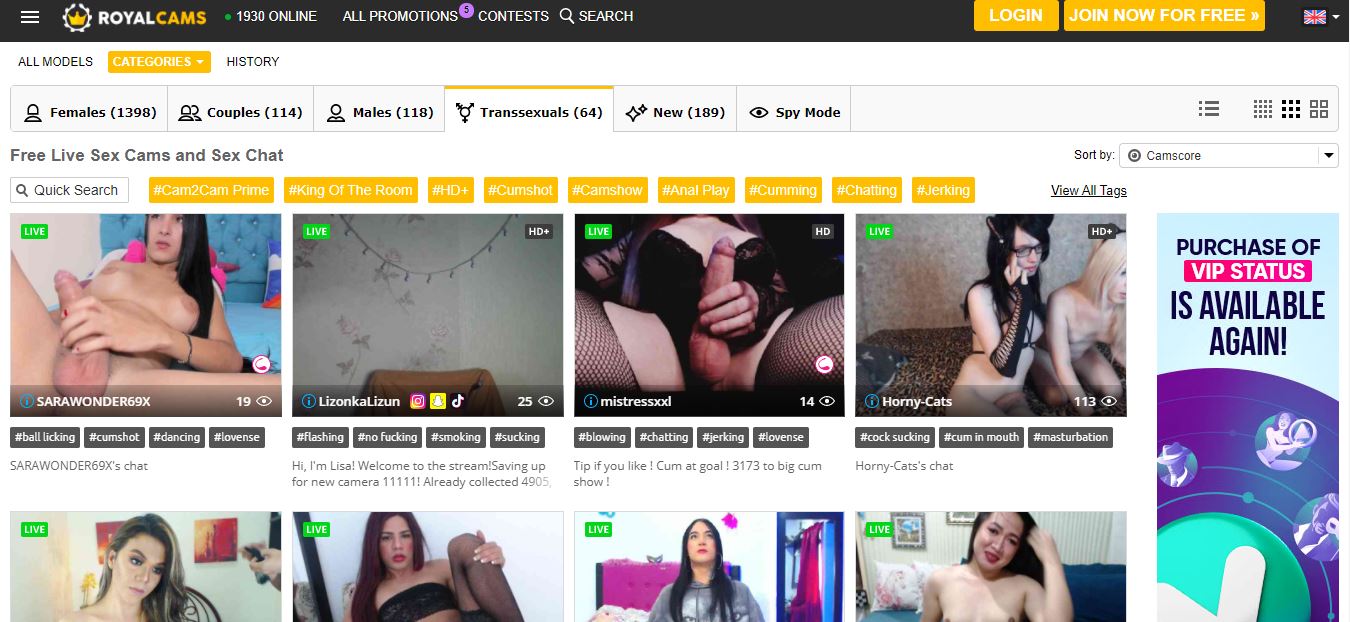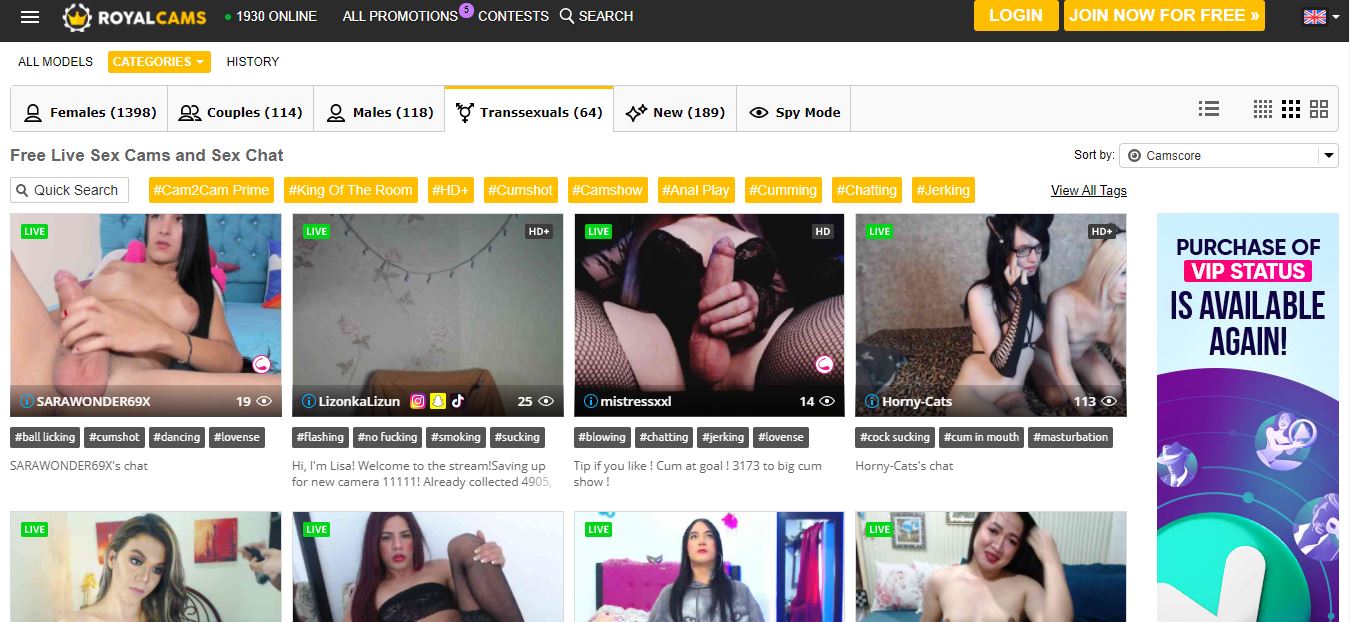 All in all, Royal Cams is a very well-organized site and definitely worth checking out. Don't think twice. Give it a chance and we think you'll be quite pleased. The tranny cam models are very hot and for the most part friendly and always willing to please. Take your time searching for cam models, as each is different and provides a different type of service. But if you just want to watch horny trans models jerking off on webcam, you'll find plenty of those on Royal Cams. Enjoy your membership!